This Sunday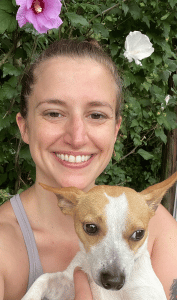 This Sunday in the Rainbow Room we will explore Belonging and the Bigger Picture. So much gratitude to our volunteers Melissa Fahmy, Barb Schell, and new childcare coordinator Carley Reeves!
We will be reflecting on the 7th principle, which is: Respect for the interdependent web of all existence of which we are a part. We will also be discussing how we are all made of stardust!
Meet Carley Reeves!
Carley is our new Childcare Coordinator. She will be with the fellowship on Sundays and for special events throughout the week. A native of Athens, Carley enjoys spending time with her ten nieces and nephews, performing onstage, growing pumpkins, and cuddling her sweet dog, Gomez. Carley is a current MSW candidate at the University of Georgia and plans to graduate in May 2023. She hopes to work with individuals in recovery from substance abuse and addiction (and their families). Carley is excited and grateful for the opportunity to be a part of the UUFA team!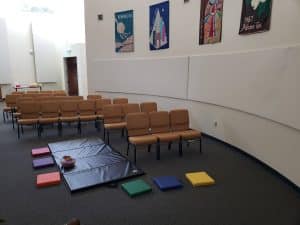 We are continuing to explore various seating arrangements in the sanctuary. This Small Sanctuary is for anyone who would like to wiggle, stretch out, or use alternative seating. If this spot is full, please check in with our childcare coordinator, Carley Reeves, DRE, Kahla Childers, or one of the ushers and we will find a spot for you. We would like this to be an accessible space for all, but it is still a work in progress! Please let me know if you have any questions or comments about our Small Sanctuary space!
Register for RE!
Is your child or youth planning on attending Religious Exploration, YUU (Youth Group), childcare during services or events, or the nursery at UUFA this upcoming year? Please register them with Religious Exploration for Children and Youth Religious Exploration for Children and Youth!
You will be able to register all children/youth and caregivers on one easy form. Registering allows for an easier sign in process, better communication, and provides helpful information to the staff at UUFA so that we can best serve your family. You do not need to be a member of UUFA to register your child/youth with RE.
If you have questions about this form, please contact our Director of Religious Exploration, Kahla Childers, at DRE@uuathensga.org

Join UUFA on Sunday, October 23rd, from 11:30-2:30 for our Fall Festival! We will enjoy chili, trunk or treat, pumpkin painting, a costume contest, and more! The festival will begin after service. Let's gather together for an incredible, intergenerational event. All are welcome!
*small pumpkins will be provided. If you prefer a larger pumpkin, you may bring one from home. Folx are welcome to paint pumpkins at home and bring to display at UUFA as they wish!
As we care for one another in this liminal time, the Pastoral Care team at UUFA is looking for new members and input to better respond to the needs of children, youth, young adults, and families.
Call for Pastoral Care & RE Leader Volunteers
Multigenerational pastoral care is vital to our Beloved Community. Volunteering with pastoral care can take several different roles – from reaching out to those in need of care to connecting volunteers with families that could use some extra support. If this stirs your heart, contact Kahla or Rev. Pippin.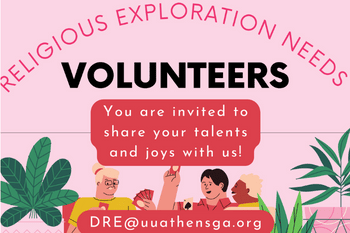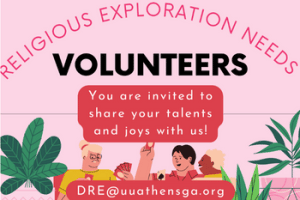 We are also searching for Religious Exploration Teachers and Assistants. Are you creative, open-minded, or yearning to create relationships at UUFA? Join our RE team! We have a training coming up on Sunday, October 16 from 12:30-2:30 PM for those interested. Contact DRE Kahla for more information!