RE and YUU will meet on Sunday, December 10th at 10:30 a.m. Join RE as we explore the Mystery in the Ordinary thanks to our incredible volunteers! We focus on the theme of Mystery as taken from the proposed Article II section that reads "As Unitarian Universalists, we proclaim that direct experiences of transcending mystery and wonder are a primary source of inspiration. These experiences open our hearts, renew our spirits, and transform our lives."
Coming up in December, we have a lot of wonderful events. Join us for crafting and gift making at Nifty Gifty on December 9th, celebrating the Winter Solstice on December 20th, and Winter Solstice Circle Dances on December 21st! 
**Note for Seedings room** – The Seedlings room will be closed on Dec 24 and 31 to give our childcare providers some well deserved time off! The Seedlings Room will reopen on January 7th.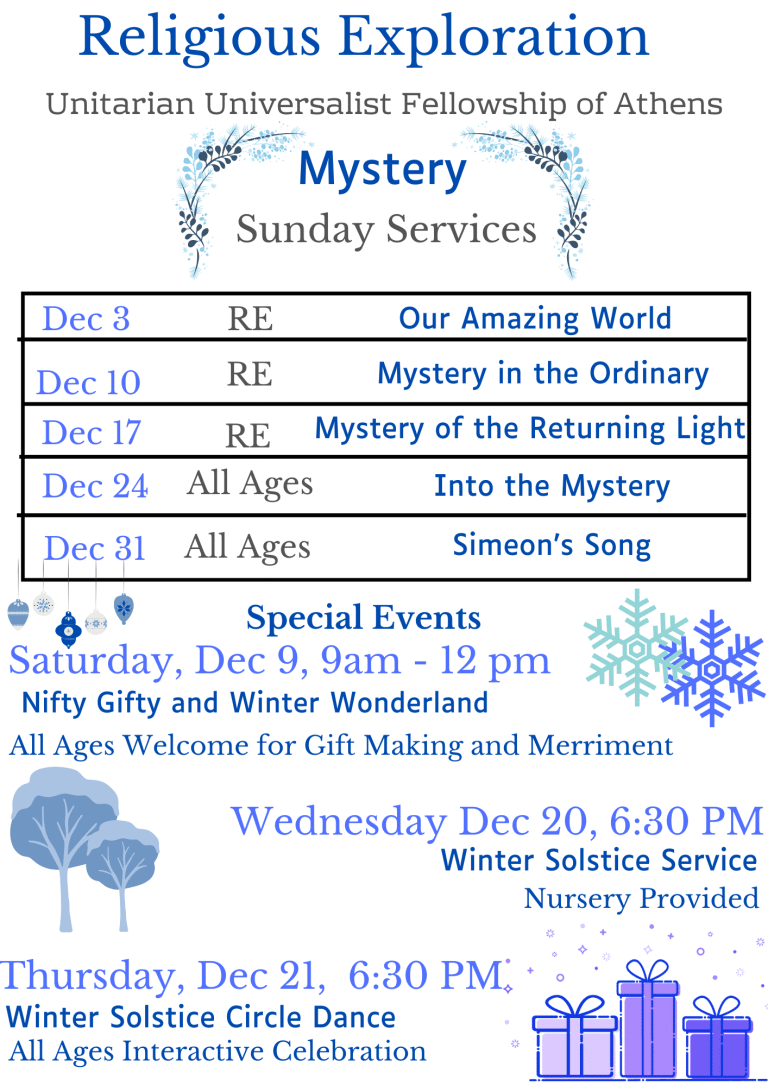 [Click the image to enlarge.]
Taking it home: 
Play
: Play 
Body Boogie
 with your family by following along with this video! What amazing things can your ordinary body do?
Discuss: What ordinary things are you grateful for? Where is there beauty hiding in your home or outside – could it be in the gentle curl of an autumn leaf, a candle's flickering light, or a favorite song you listen to together?
Ponder: This is a poem about ordinary life and parenting that I've always been drawn to – how does it make you feel?
"Do not ask your children
to strive for extraordinary lives.
Such striving may seem admirable,
but it is the way of foolishness.
Help them instead to find the wonder
and the marvel of an ordinary life.
Show them the joy of tasting
tomatoes, apples and pears.
Show them how to cry
when pets and people die.
Show them the infinite pleasure
in the touch of a hand.
And make the ordinary come alive for them.
The extraordinary will take care of itself."
William Martin, The Parent's Tao Te Ching: Ancient Advice for Modern Parents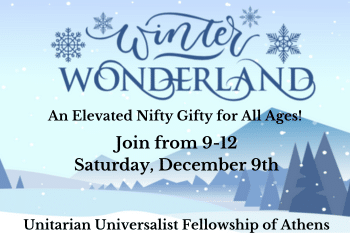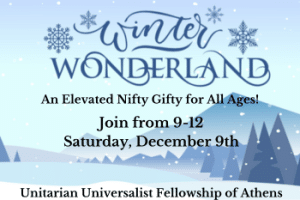 As the winter holiday season approaches, excitement is gathering for this year's Nifty Gifty! 
What is Nifty Gifty?
Nifty Gifty is an annual UUFA tradition when folx of all ages are invited to come make crafts and gifts for their loved ones. We will have several stations to create items, such as candles, spice mixes, and picture frames. We will also have special crafts for adults! 
We round out all the gift making with special treats, music, and a joyous celebration. All are welcome to this Winter Wonderland event! Be on the lookout for more information about specific craft offerings, volunteer opportunities, and more ways to engage and have fun!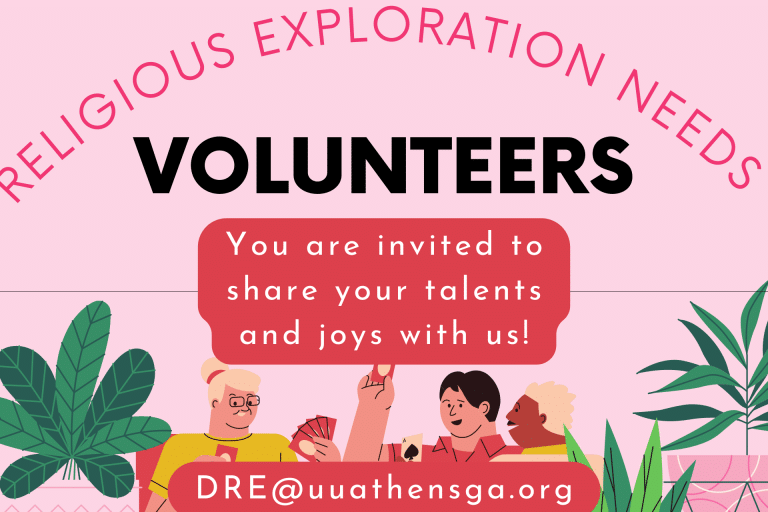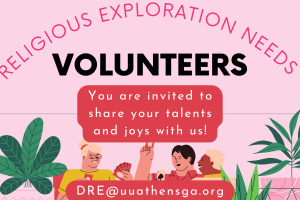 RE guides co-create an introspective and creative space with our elementary aged children, while embodying spirit and growing love at our fellowship. Can you volunteer with RE once a month? Email our DRE, Kahla, at 
dre.kahla@uuathensga.org
! We can't wait to hear from you!
---
Chalice Lighting
Does your family want to light or extinguish the chalice at an upcoming service? Email 
dre.kahla@uuathensga.org
 or find Kahla after service to sign up!
---
Register for RE!
Is your child or youth planning on attending Religious Exploration, YUU (Youth Group), childcare during services or events, or the nursery at UUFA this upcoming year? Please register them with Religious Exploration for Children and Youth Religious Exploration for Children and Youth!
You will be able to register all children/youth and caregivers on one easy form. Registering allows for an easier sign in process, better communication, and provides helpful information to the staff at UUFA so that we can best serve your family. You do not need to be a member of UUFA to register your child/youth with RE.
If you have questions about this form, please contact our Director of Religious Exploration, Kahla Childers, at DRE@uuathensga.org