As we roll into the month of June, our theme of this month is Delight! This Sunday, June 4th at 10:30 am, UUFA welcomes special guest Friction Farm for a special musical all ages service! Join us to dance and play!
I am so excited about our upcoming events! I hope to see you in the walking group at Athens Pride on June 3rd (more info below) or any of the super awesome events that are taking place in June!
This summer YUU will take on a leadership role within RE as we learn and play together. During the months of June and July, RE and YUU will have special opportunities to build connections as we learn to be with one another during a special "one room schoolhouse" RE summer. I am looking forward to watching the multi-age friendships that will bloom! ~ Creatively yours, Kahla
RE and YUU will meet this month on: 
June 11, June 18, June 25
July 9, July 16, and July 30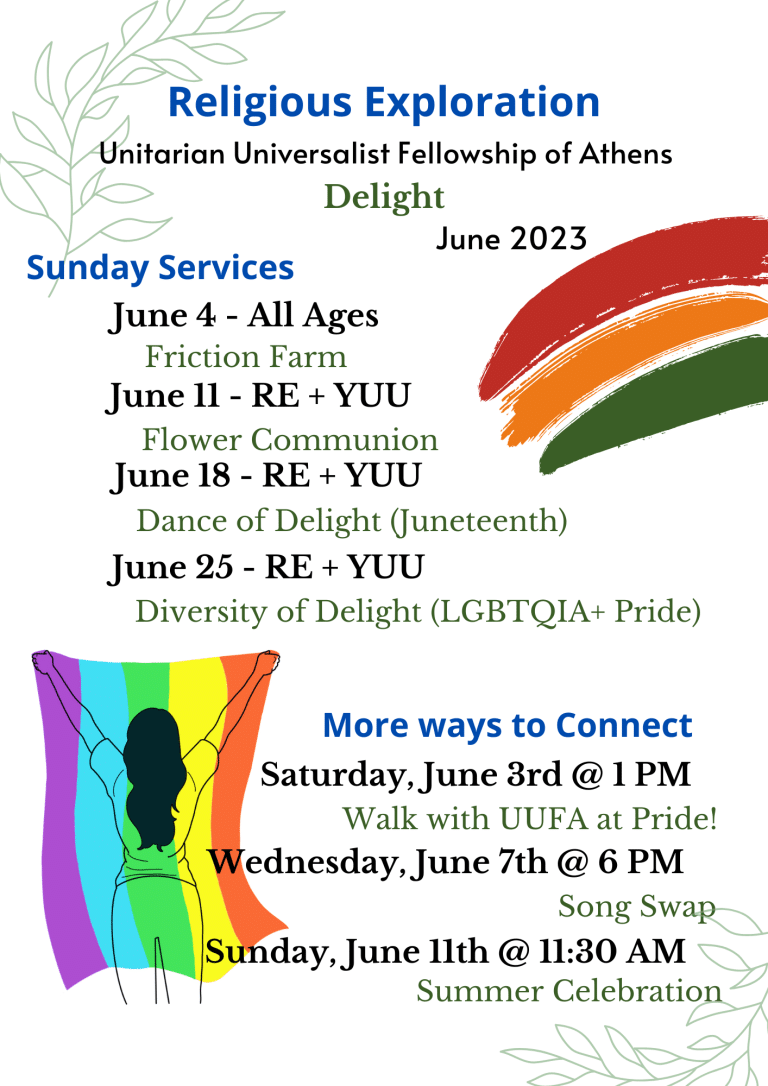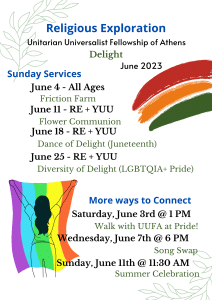 (Click the image to enlarge.)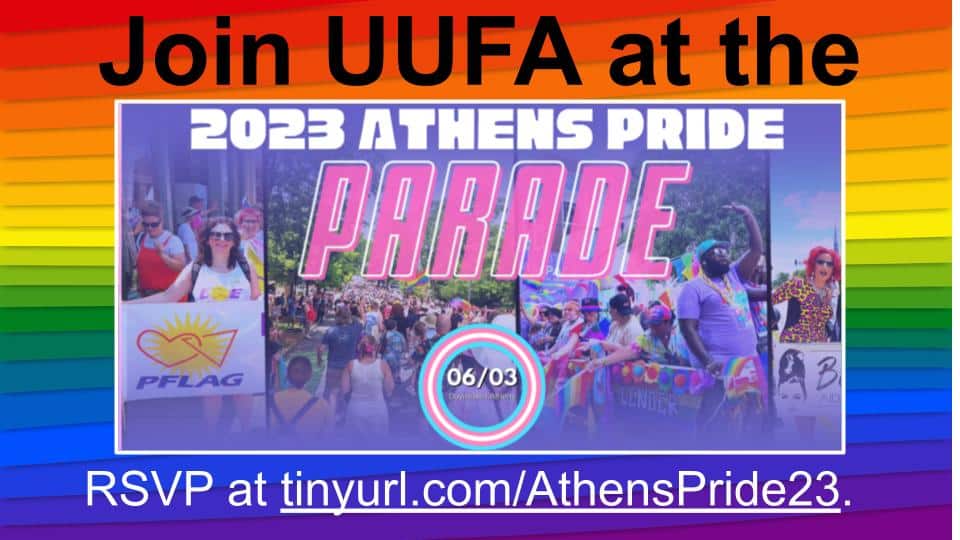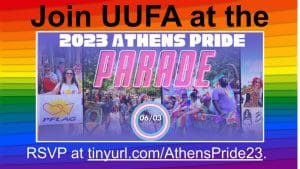 I am so excited to invite you to participate in this year's Athens Pride on Saturday, June 3!
UUFA will be walking in the parade as well as setting up a table for the resource festival. If you and your family would like to participate, please register so we can send you more details as the date approaches. Wear your rainbow best, flags, or anything that makes you feel your best. 
Details
– Parade line up begins at 1 pm on 6/3/23
– Parade begins at 2 pm
– Resource fair and festival will be from 3-6 PM at the Foundry Pavilion (400 Foundry Street)
– After parade festival includes resources, food trucks, music, and more!
---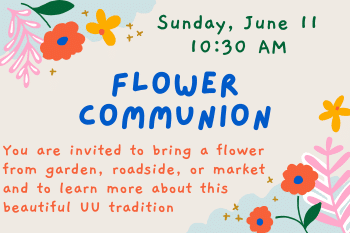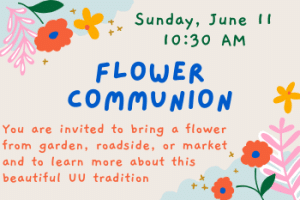 Sunday, June 11 at 10:30 am
— Flower Communion is a special ceremony in which we share flowers with the fellowship and each individual will be able to bring a flower home from this collective sharing. Bring a flower, picked from your yard or purchased, as we recognize the 100th anniversary of Flower Communion.
Learn more about Flower Communion
---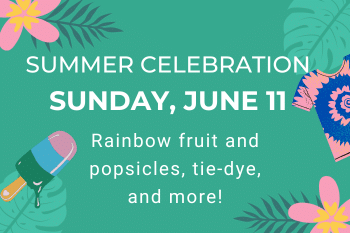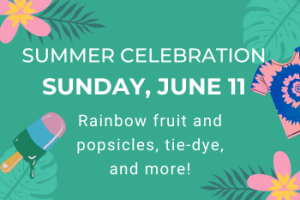 Following service on June 11th, we will gather for a Summer Celebration! Bring something light colored to tie-dye and enjoy rainbow colored fruit and popsicles!
---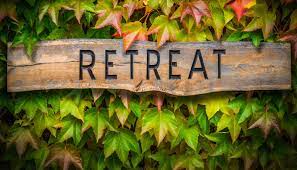 Come to play, connect, and refresh at the Mountain with UUFA. There will be multiple opportunities to spend time together through a variety of workshops, games, hikes, crafts, worship, and time by the fire. All ages are encouraged to attend. Make time to reconnect with old friends and make new ones.  All youth and children will be free and other scholarships are available as well. 
Register now here.
Creative Exploration Under the Pyramid – Summer Camp Week at UUFA!
Have you signed up for Summer Camp yet? Join us at Creative Exploration under the Pyramid! We will learn and play through musical instruments and art forms, with our wonderful summer camp director, Courtney Smith! 
Courtney is an art education major graduating this spring and one of our current childcare providers. She will be our on site director as we welcome guest artists from the community to engage in social justice and and self identity exploration with our campers. 
Join us for a weeklong wonderland of creativity, curiosity, and play! Campers will create art in several mediums, explore self-identity and social justice through artistic expression, and discover musical instruments with guest artists. Creative Exploration Under the Pyramid is a place where children are valued as whole beings and seen as a vital part of our world.
For our creative campers in middle and high school who are looking for a leadership role, we will also be offering Creative Leaders in Training. CLTs will assist with our camp while serving as role models and gaining valuable leadership skills.
July 17 – 21, 9 am – 3 pm at UUFA
Cost for ages 5-12: $150 for members/staff of UUFA, $200 for non-members
Cost for  Creative Leaders in Training (CLT) for middle and high school youth: $75
---
Chalice Lighting
Does your family want to light or extinguish the chalice at an upcoming service? Email 
dre.kahla@uuathensga.org
 or find Kahla after service to sign up!
---
Register for RE!
Is your child or youth planning on attending Religious Exploration, YUU (Youth Group), childcare during services or events, or the nursery at UUFA this upcoming year? Please register them with Religious Exploration for Children and Youth Religious Exploration for Children and Youth!
You will be able to register all children/youth and caregivers on one easy form. Registering allows for an easier sign in process, better communication, and provides helpful information to the staff at UUFA so that we can best serve your family. You do not need to be a member of UUFA to register your child/youth with RE.
If you have questions about this form, please contact our Director of Religious Exploration, Kahla Childers, at DRE@uuathensga.org