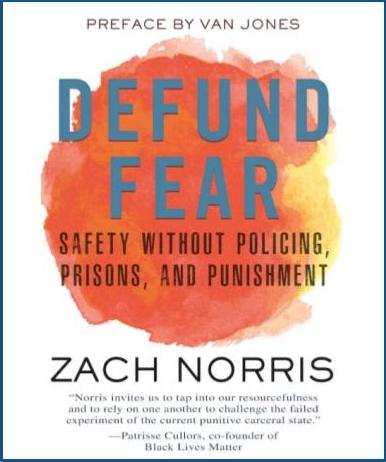 UUA 2021-22 Common Read Discussion
This year's discussion of the 2021-22 Common Read will be a multi-platform event on Sunday, March 27, beginning at 12:30 p.m.
The UUA has chosen Defund Fear: Safety Without Policing, Prisons, and Punishment by Zach Norris (Beacon Press, 2021) as the Common Read.
Zach Norris shifts the conversation about public safety away from fear and punishment and toward growth and support systems for our families and communities. In Defund Fear, Norris explores what has gone wrong, and why, and who has been most impacted by repressive and racist policing systems. He offers a new blueprint for public safety that holds people accountable while still holding them in community.
Norris is a lawyer, a community organizer, and Executive Director of the Ella Baker Center for Human Rights in Oakland, California.
Click here to join via Zoom.  The onsite discussion will occur in the AWE Room.
For more information about the UUA Common Read book discussion at UUFA, contact Lay Minister Dan Everett.
For further information about the UUA Common Read, click here.