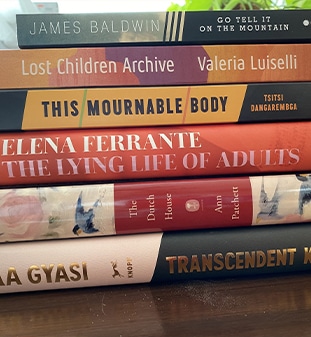 1 p.m. Book Talks (Virtual)
Book Talks is an informal group that meets the second Sunday of the month after the service to discuss books selected by the members. While reading the monthly selection ahead of time is desirable, don't stay away if you haven't finished the book or haven't read it at all. Your comments are always welcomed.
Book Talks has met at UUFA for over twenty years! The tradition continues.
For questions about the group, contact Clarissa Finco (706-543-6064).
2023-2024 Book Talks Schedule
September 10, 2023
Lessons in Chemistry
Bonnie Garmus
Elizabeth Zott believes there is no such thing as an average woman but her all-male team at a research institute take a very unscientific view of equality.So years later when she has become the reluctant host of America's most beloved cooking show she doesn't just teach women how to cook but how to change their status quo.
October 8, 2023
Still Life
Sarah Winman
Tuscany, 1944.As allied troops are advancing and bombs fall,, a young English soldier finds himself in the wine cellar of a deserted villa.There he meets middle-aged Evelyn Skinner, an art historian, in Italy to salvage paintings from the ruins,They find a kindred spirit and set off on a course of events that will shape Ulysses's life for the next four decades
November 12, 2023
The Oregon Trail
Rinker Buck
An epic current day account of traveling the length of the Oregon Trail the old-fashioned way in a covered wagon with a team of mules.An audacious journey that hasn't been attempted in a century and while traveling chronicling its history.
December 10, 2023
The Left Hand of Darkness
Ursula K. Le Guin
Genly Ali a human native of Terra, is sent to the planet of Gethen.His mission is to persuade the nations of Gethen to join Ekumen, a loose federation of planets.But he is stymied by a lackof understanding their culture.Individuals are ambisexual with no fixed sex.This created a barrier tounderstanding for Al.
January 14, 2024
SlaughterHouse Five
Kurt Vonnegut
This is the story of a man who becomes "unstuck" in time.Billy Pilgrim, an average American, trains to be an optometrist.Drafted into the military during World War II.Captured by the Germans and taken to a POW camp and this is when he first becomes unstuck visiting his birth, death and all the moments in between repeatedly and out of order.
February 11, 2024
Inside The White House
Betty Boyd Caroli
Celebrating the first two hundred years of history of th White House you will meet the people who lived there, be entertained by anecdotes about the residents, peek at views of family life and observe plans for gala weddings and milestone events.
March 10, 2024
Don Quixote
Miguel de Cervantes
Alonso Quixano reads so many chivalric romances that he loses his mind and decides to become a knight-errant to revive chivalry and serve his nation under the name Don Quixote se la Mancha.He recruits as his squire a simple farm laborer.He has many adventures including the well known attack on windmills..
April 14, 2024
Under Western Eyes
Joseph Conrad
This novel depicts the political turmoil of nineteenth-century Russia and follows the dramatic developments in the life of a student, Razumov, who gives refuge to a fellow student who assassinated a public official only to betray him later.The authorities then dispatch him on a mission to spy on the sister and mother of the man he betrayed.
May 12,2024
History on Trial
Deborah E. Lipstadt
This is the story of the author's libel trial in London against David Irving who sued her for calling him a Holocaust denier and right wing extremist. Editors at Amazon listed it as the fourth best non-fiction history book of 2005.