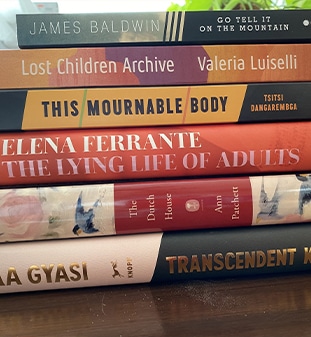 1 p.m. Book Talks (Virtual)
Book Talks is an informal group that meets the second Sunday of the month after the service to discuss books selected by the members. While reading the monthly selection ahead of time is desirable, don't stay away if you haven't finished the book or haven't read it at all. Your comments are always welcomed.
Book Talks has met at UUFA for over twenty years! The tradition continues.
For questions about the group, contact Clarissa Finco (706-543-6064).
2022-2023 Book Talks Schedule
August 14, 2022
The Codebreaker
Walter Isaacson
For the first time in the evolution of life on this planet, as species has developed the capacity to edit its own genetic makeup, something that brings both promise and peril.
September 11 2022
Born a Crime
Stories from a South African Childhood
Trevor Noah
Trevor's unlikely path to the desk of the Daily Show began with a crime – his birth to a while father and a black mother, punishable by 5 years in prison.  This book is a collection of personal stories about growing up during the last gasps of apartheid and the tumultous days or freedom that followed its demise.
October 9, 2022                       
Four Winds                                     
Kristin Hannah
It is 1934 in Texas.  Elsa Martinelli lives with her in-laws, drunk husband, and two young children.   Farmers fight to keep their land as crops fail, water is drying up and dust threatens to bury them all.  Elsa must make a choice – fights for the land she loves or go west to California
November 13, 2022
Fascism
Madeleine Albright
Albright warns about rising fascism around  the world.  She argues it is not an ideology but a process for taking and holding power.  It is about majority rule without any minority rights.  Fascism tend to single out a smaller group as responsible for their grievances in order to stir up people and give them someone to hate.
December 11, 2022
All the Light We  Cannot See
Anthony Doerr
Set in WWII, this book centers on two characters, Marie-Laure Leblanc, a blind French girl and Werner Pfenning, a German boy.  Their paths collide as both try to survive the devastation of war.  They come together in Saint-Malos and show that against all odds, people try to be good to one another
January 8,  2023
Ghost Hunters, Willian James and the Search for Scientific Proof of Life and Death
Deborah Blum
At the close of the nineteenth century, William  James, renowned philosopher and professor of psychiatry led a determined scientific investigation into unexplainable incidences of clairvoyance and ghostly visitations.  What was found raises questions that are still fascinating.
February 12, 2023       
Apeirogon
Colum McCann
The story follows two real life figues, Rami Elhanan, an Israeli graphic designer, and Bassam Aramin, a Palestinian scholar and previous political prisoner, who were raised to hate each other but bond over the untimely death of their respective  daughters,
March 12, 2023
A Woman of No Importance
Sonia Punell
Despite having a wooden leg due to an amputated caused by hunting accident Virginia Hall volunteers to drive ambulances for the Service de Saute; Des Armees during WWII. A chance meeting with a Special Operaions  agent changed her life.  Impressed by her courage, independence and poise, she is asked to go to occupied France to help the Resistance.
April 9 2023
Siddhartha
Herman Hesse
Siddhartha, a wealthy Indian Brahmin leaves his life of privilege and comfort to seek spiritual fulfillment and wisdom.  In his journey he encounters wandering ascetics, Buddhist monks, successful merchants, a courtesan, and a simple ferryman who has attained enlightenment.
May 14, 2023
The Socrates Express
Eric Whiner
The author embarks on an intellectual journey following the footsteps of history greatest thinkers from Epicurus to Gandhi, Thoreau to Beauvoir who offer practical and spiritual lessons for today's unsettled times.