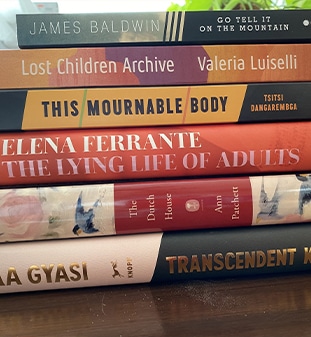 Book Talks (book discussion group)
Book Talks is an informal group that meets the second Sunday of the month after the service to discuss books selected by the members. While reading the monthly selection ahead of time is desirable, don't stay away if you haven't finished the book or haven't read it at all. Your comments are always welcomed.
Book Talks has met at UUFA for over twenty years! The tradition continues.
For questions about the group, contact Clarissa Finco (706-543-6064).
2021-2022 Book Talks Schedule
September 12,  2021
Orphan Train
Christina Baker Kline
The orphan train was a phenomenon of the 1920s.  A well-intended but sad transportation of orphaned children from East Coast cities to the rural Midwest.  In this novel Vivan, one of those children, remembers those years – adrift, afraid, and alone in Minn. trying to survive when hungry, cold, and scared.
October 10, 2021                         
Natural Causes, An Epidemic of Wellness, The Certainty of Dying, & Killing Ourselves to Live Longer
Barbara Ehrenreich
The  author describes how we over-prepare and worry way too much about what is inevitable,  One by one, she topples the shibboleths that guide our attempts to live a long and healthy life.
November 14, 2021
While Justice Slept
Stacey Abrams
When Justice Wynn slips into a coma, Avery Keene, his law clerk, learns Wynn has left instructions naming her his legal guardian and giving her power of attorney.  She finds the Justice had been secretly researching a controversial case before the court and she realizes the clues he has left her could lead her directly into harm's way.
December 12, 2021
A Promised Land
Barack Obama
This memoir covers his early political career and the first two years of his presidency.  It's the story of his journey from relative obscurity as a biracial kid from Hawaii to becoming the transformative figure as the nation's first Aftican-American President.
January 9, 2022
Kindred
Octavia Butler
On June 9 1976 Dara and her husband move into a new apartment. While unpacking and settling in, she becomes dizzy and when she comes to finds herself in the early 1800s in Maryland.  She saves a drowning boy, becomes dizzy again and finds herself back in 1976.  She keeps traveling back and forth in time with each episode involving Rufus, the boy she saved.
February 13, 2022      
This is How They Tell Me The World Ends
Nicole Pertroth
The author gives a rundown of the various threats to the world's digital infrastructure.  This includes the underground market for cyber weapons which allows hackers to earn millions finding a flaw in commonly used technologies.
March 13, 2022
The Midnight Library
Matt Hair
Nora is having a bad day.  Her cat dies, her brother visits town but ignores her, she is fired from her job and her only music pupil quits.  She writes a suicide note and overdoes. She wakes up in the Midnight Library, a quantum state that allows her to move between an infinite number of versions of her life.  She must use this library to find a life worth living before she dies.
April 10. 2022
The View from Serendip
Arthur C. Clarke
A collection of essays and anecdotes by Clarke that include his experiences with living, Sri Lanka, his relationship with other sci fi authors such as Isaac Asimov and other personal memoirs as well as speculation about things of scientific interest.
May 15, 2022
The Giver of Stars
Jojo Moyers
Based on a true story of women who helped deliver books as part of Eleanor Roosevelt's new traveling library.  What happens to Alice, Margery, and three other and to the men they love is a story of loyalty justice, humanity and passion
June 12, 2022
The Woman's Hour
Elaine Weiss
Thirty-five states have approved the 19th amendment granting women the right to vote.  One last state, Tennessee, is needed.  The suffragist face vicious opposition from politicians, clergy, corporations, and racists who don't want black women voting.  In the summer of 1920 they all converge for a confrontation
July 10, 2022.
Transcendent Kingdom
Yaa Gyast
This novel is about a family of Ghanaian immigrants ravaged by depression and addiction and grief.   Gifty is a neuroscience student at Sanford.  Her brother died of an overdose and her suicidal mother is living in her bed.  Gifty is determined to discover the scientific basis for suffering she sees all around her.
August 14, 2022
The Codebreaker
Walter Isaacson
For the first time in the evolution of life on this planet, as species has developed the capacity to edit its own genetic makeup, something that brings both promise and peril