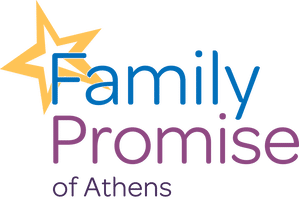 OFFSITE: Family Promise Week Feb. 19 thru Feb. 25
Family Promise needs help from UUFA volunteers!
We UU's will once again be hosting FP families during the week of February 19th. The host facility will be Milledge Avenue Baptist Church located at 1690 S. Milledge Avenue.
VOLUNTEERS NEEDED FOR EACH SATURDAY AND SUNDAY:
Morning Host, 7:00-10:30 AM
Midday Host, 10:30-2:00
Afternoon Host, 2:00-5:00
Evening Host, 5:00-8:00
Evening Meal Preparer
Overnight Hosts (2), 8:00 PM-8:00 AM
VOLUNTEERS NEEDED FOR MONDAY THROUGH FRIDAY:
Evening Host, 5:00-8:00
Evening Meal Preparer
Overnight Hosts (2), 8:00 PM-8:00 AM
If some of our folks would like to contribute towards purchasing Kroger cards (to help with breakfasts and lunches) for the families, they can send their contributions to Diana Pearson, 150 Homestead Drive, Athens 30605.
The other dates for UUFA support in 2023 are the weeks of 4/23/23, 6/18/23 and 9/10/23.
We'd like to share news of Family Promise's accomplishments last year – all families have moved to other places! We will be hosting all new families.
In 2022, we served 108 families in total, including 6 in shelter, 22 in diversion, and 80 in prevention. We provided almost $100,000 in rent and utility assistance this year. And of course, we (finally) opened our transitional units! Habitat has completed a video highlighting the units for those who were not able to attend the dedication. Watch it here: Helping Homeless Families in Athens, GA
Here are the details on the three families we will help host this month:
Family 1 : Brittany (mom) and Zayla (2)
Family 2: Teresa Hall (MOM) , Josh Hall (Dad), Colin Victor (8) , Camelia Hall ( 5)
Family 3: Patricia Jewell (MOM)  Zuri Jewell (Dad), Zoe Jewell  (9), Tristen Jewell (1)
Some food choices all families recommend are meatloaf baked potatoes garlic bread, meat rice corn cornbread, lasagna with salad, chili with crackers, hamburger, and fries with toppings like onions lettuce, etc, chicken cabbages rice rolls, roast with green beans and black-eyed peas, salads, and fruit, tacos , fish and grits , alfredo pasta with chicken and bread, pasta with butter sauce and bread, rotel and cheese dip with corn chips , chicken and rice , lasagna without ricotta cheese, broccoli and cheese casserole . Fried Fish from Captain Ds. Sub sandwiches , Pizza , spaghetti
The Jewell family has one child that is lactose intolerance. All she asks is that she is notified if something has milk in it , so she won't feed it to that child.
RECENT UPDATES-
New info for meal preparers and evening hosts:
Hosts can now serve the evening meal Family Style, as was done prior to the pandemic. This means that all guests will serve themselves from the same dishes.
Meal preparers won't have to divide the food into separate portions for each family. Yay!  Much easier! As before, meal preparers should drop off the food by 6:00, placing it on the table inside the back door entrance (next to the parking lot on the right side of the church).
Evening hosts can assist the guests in carrying their food upstairs, and they are free to eat with the guests. Evening hosts are requested to put the leftovers in the refrigerator after 30-45 minutes in case there are late diners.
---
TO SIGN UP
Click on the link:  https://www.signupgenius.com/go/4090f4ca5aa29a4fe3-2022#/
If you have not received FP training, it is available at:   https://familypromise.org/volunteer-training-videos.
Many thanks to all of you for your interest and commitment to Family Promise. We appreciate your participation in this invaluable community program.
Please let us know if you have questions!
Sincerely,
Becky Parker and Fran Cawthon (UUFA FP Coordinators)