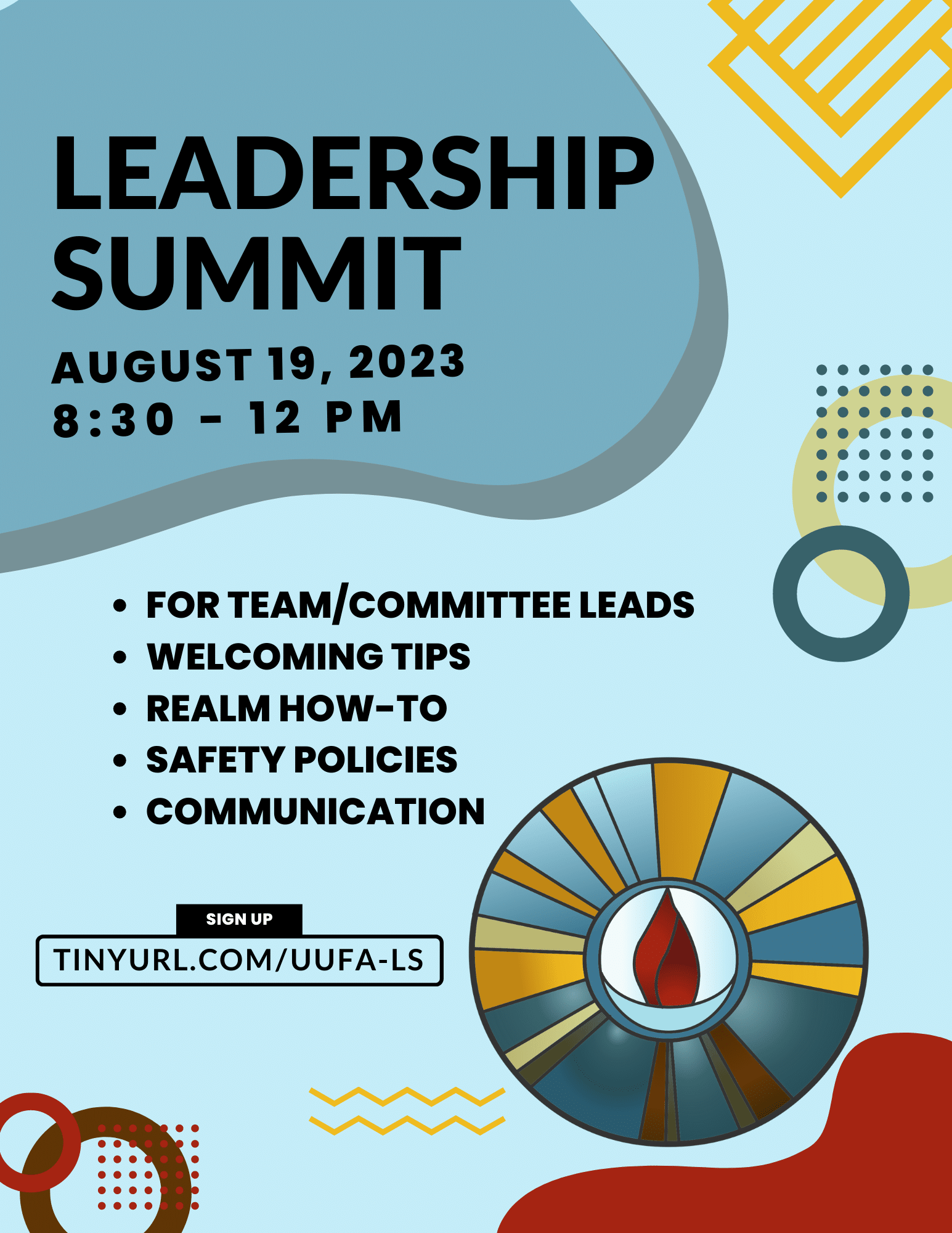 8:30 a.m. Leadership Summit
The Board, Ministry Council, and Reverend Pippin deeply value the shared leadership of this fellowship–shared amongst those of us serving on the Board and Ministry Council as well as with all leaders at UUFA. We want our collective shared leadership to be intentional, informed, and connected. Intentional, meaning we are living our values in the ways we lead and serve this fellowship. Informed, meaning we all understand one another's roles, responsibilities, and gifts. Connected, meaning we know each other and know how to reach out to one another for support, encouragement, and community.
But wanting something good doesn't do and good on its own. So, we invite you to do something together!
Thus, the Board, Ministry Council, and Rev Pippin heartily invite all leaders to take part in the UUFA Leadership Summit on Saturday morning, August 19 from 8:30 to 12 pm. The summit is for all leaders, whether you lead a committee, team, or occasional group. The summit is also an expression of gratitude. The Ministry Council is hosting the  breakfast and invites all leaders to enjoy this breakfast as a thank you for the gifts you have shared at UUFA.
The summit will offer an opportunity for each of us to become more informed about who does what, our safety practices, and our building use policies so that all who lead are equipped to gather in the building. We will also deepen our practice of welcome, exploring how we experience and express welcome for all. We will cover some nuts and bolts of safety and security, hospitality, and communications too. All the while, we will get to know one another better and form stronger connections.
We look forward to joining you at the Leadership Summit on Saturday morning, August 19 from 8:30 to 12 pm. Please see the advertisement below for registration and more information. Please reach out to MC@uuathensga.org if you are not sure whether or not you are a "leader" and for other questions too.
Sincerely,
UUFA Board of Trustees
UUFA Ministry Council
Rev Dr Pippin Whitaker, Minister 
The first session, from 8:30-12 p.m., will be for all group leaders.
In the afternoon from 12-4:30 p.m., there will be an optional time and space for groups to kick off the program year. This is a great time for leaders who attended the Summit to apply what they learned with their groups.  Each group will be on their own in this planning. Bag lunch or potluck or no lunch–whatever your group/s would like. Indicate on the RSVP form which room or outside location you'd prefer to meet with your group and how many group members you expect will be there.