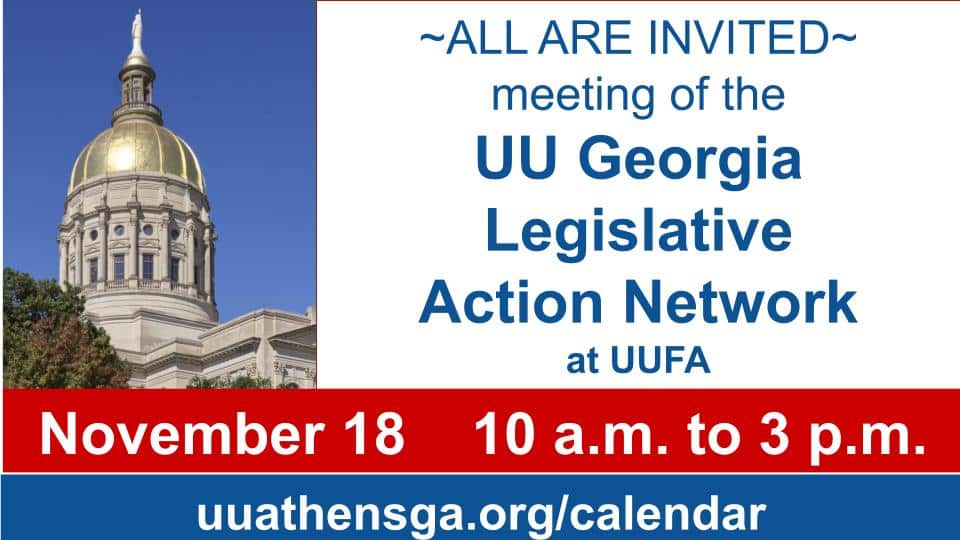 10 a.m. — 3 p.m. UU GA Legislative Action Network 
All are invited to participate in the inaugural in-person meeting of the UU GA Legislative Action Network on Saturday, November 18, from 10 a.m. to 3 p.m. at UUFA. Lunch will be served. Register here before Nov. 15 for planning purposes!
This event will be divided into two parts;
a panel discussion on effective ways to engage in the legislative process with representatives from Georgia Budget and Policy Institute, Georgia Coalition for the Peoples' Agenda, Georgia Equality and the GA American Civil Liberties Union
a discussion on how UU congregations from across the state can identify important pieces of legislation and effectively engage with our state legislatures.
The UU GA Legislative Action Network is composed of members from 8 other UU congregations in Georgia working towards mobilizing the involvement of UUs in the state legislative process.
Need additional information?
Please contact Greg Davis or Connie Bruce.