Goddess Group
Explore the Divine Feminine with the Goddess Group
The Goddess Group is a circle of persons who identify as female and who are exploring their inner goddess through appreciation and participation in the arts, everything from crafts to fine art, to gardening and nature walks, to singing and dancing and drumming, to reading and writing, to cooking and sewing.  The group formed following study of the Unitarian Universalist Association's curricula about thealogy (the study of the feminine aspect of the Divine, i.e. the Goddess), "Cakes for the Queen of Heaven" and "Rise Up and Call Her Name."  Ritual, conversation, sharing, and caring are part of the group's ongoing ministry to each other.
Meeting Time and Schedule:
Due to Sheltering in Place, the Goddess Group will meet via Zoom on third Sundays at 2:00 pm until further notice. Please let Myrna know if you are planning to attend so that she can send you the link to the Zoom meeting.
For more information on The Goddess Group, contact Myrna Adams West, at myrnaaw@bellsouth.net  or 770/725-5397,  or Vivian Preston Sellers, at vpsellers@gmail.com.
Please note:  Occasionally it is necessary to change the meeting times and/or space because of other activities at the Fellowship. Myrna will try to let you know in plenty of time when that is going to happen.
For more information, please see the following documents: Frequently Asked Questions (FAQs) about UUFA's Goddess Group: , Goddess Covenant ,  or contact Myrna at myrnaaw@bellsouth.net.
Calendar of Goddess Group Sessions for 2020-2021
Proposed Goddess Group Gatherings for 2020-2021
NOTE: Current plans are that all these gatherings will be virtual via Zoom.
July 12 (note change in date):  Discuss "A Statement of Feminist Thealogy," or another background article from "Cakes"
August 16: Session 1 of Cakes for the Queen of Heaven: In Ancient Times, "The Sacred Female," Facilitator–Myrna Adams West
September 20: Session 2 of Cakes for the Queen of Heaven: In Ancient Times, "In the Name of the Mother and the Daughter," Facilitator–Leigh Harvey
October 18: Session 3 of Cakes for the Queen of Heaven: In Ancient Times, "Woman Power," Facilitator–Morgan Henry
November 15: Recipes from Our Spiritual Mothers, Hosted by June Lovenbury Warfield via Zoom
December 20: Tea with the Goddess, Hosted by Myrna Adams West via Zoom
January 17, 2021: Session 4 of Cakes for the Queen of Heaven: In Ancient Times, "The First Turning: the Shift from Goddess to God," Facilitator: Vivian Preston Sellers
February 21: Session 5 of Cakes for the Queen of Heaven: In Ancient Times, "Reclaiming Women's Heritage of Peace," Facilitator Rosemary Wood
Projects and Activities
Current Outreach Project:  End-of-the-year Holiday gifts for a DFACS girl
Periodic Sunday Services on the Goddess:  From time to time the Goddess Group presents a Sunday Service honoring the Goddess (such as Earth Day or Mother's Day) or presents a service to share what has been learned in the study of the Goddess.
Course Offerings
Cakes for the Queen of Heaven Part 1:  In Ancient Times & Part 2:  On the Threshold:  Courses created for those who are interested in exploring women's religious history, the discussion focuses on significant religious issues of Judaism and Christianity, and access to power; describing the ways in which these issues have affected our culture.  Attitudes derived from religious philosophy and beliefs have had a profound effect on interpersonal relationships among women and men and on family patterns.  They have had an equally profound effect on the power structures of all the institutions in our society.  This program provides a vehicle by which adults may examine the historical roots of these phenomena and move toward affecting change in our society where that is judged to be desirable and necessary.
Rise Up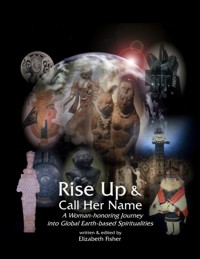 & Call Her Name:  A Woman-Honoring Journey into Global Earth-Based Spiritualities is a journey of thought and activity.  It carries numerous qualities.  Most important among these are–
Bringing awareness of the processes of nature into our contemporary spiritual life
Nurturing self-respect in women and respect for women in men by making known the range of emotions and actions attributed to female deities and the respect accorded them in many spiritual traditions
Expanding respect for Earth-based spiritual traditions as well as the Earth-honoring aspects of several well-known religious belief systems
Opening doors to cross-cultural interaction by fostering an appreciation for the richness of diversity
The Goddess in the 21st Century
In Cakes for the Queen of Heaven and Rise Up & Call Her Name, we learned much about the Goddess.  We have seen how she is represented in cultures around the world from ancient times into the 20th Century.
The Goddess in the 21st Century, developed by members of the UUFA Goddess Group, focuses on some of the wonderful women on whose shoulders we stand and introduces us to some modern manifestations of the Goddess.
The first session sets the stage by reviewing what we have learned about ancient Goddesses and making some comparisons to modern women.  In subsequent sessions, you can expect to learn about Body Connections with the Goddess Spirit; Santa Muerta, the Goddess of Death, who is worshipped in Mexico and elsewhere (a favorite of some LGBTQ+ folks, as well); American Women from Pocahontas to Michelle Obama, who exhibit Goddess characteristics in modern ways; how advertising depicts women; "Sita Sings the Blues," a short movie about a young modern woman; AND you will have an opportunity to share your own shero in a unique way at a closing session that will include an Iced Tea Party.
This course was offered in 2018.
Becoming Women of Wisdom:  Marking the Passage into the Crone Years:  This new thirteen-circle curriculum is designed to prepare women to take on the important role of Wise Women in their communities.  Becoming a Wise Woman takes time and can be enriched by being in dialogue with other women.  The creators of this curriculum have developed a process that involves monthly gatherings to explore what it means to become a crone, culminating in a ritual celebrating our new status as Women of Wisdom.  The curriculum is designed to open participants to the power, wisdom, and insight of the mature self and to challenge us to use our wisdom for the good of the world through action and compassion.
"Awakening the Sheroes Within," a study of Awakening the Heroes Within: Twelve Archetypes to Help Us Find Ourselves and Transform Our World, by Carol S. Pearson