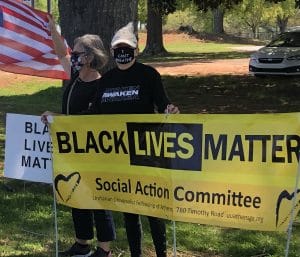 11:30 p.m. OFFSITE: Voting Rights Demonstration on the Eastside of Athens
The UUFA Social Action Committee (SAC) invites you to join members of SAC and the local Indivisible group at one of the two Voting Rights demonstrations every Monday.
On the the Eastside, join the demonstration on Wednesdays from 11:30 a.m. to 1 p.m., on the corner of Gaines School and Barnett Shoals Road.
Can't make it on Wednesdays? Join the demonstration on Mondays on the Westside, on the corner of Alps and Baxter Streets from 12:30 until 1:30 p.m.
Join with sign or without. All are welcome!
For additional information, contact Iva King.