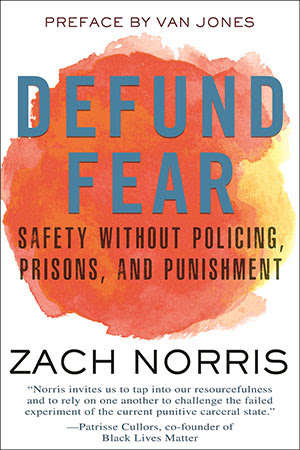 The 2021–2022 UU Common Read is Defund Fear: Safety Without Policing, Prisons, and Punishment by Zach Norris, published by Beacon Press. The Common Read builds community in our congregations and our movement by giving diverse people a shared platform for reflection and a shared focus for action. Further, a Common Read can take us on a powerful faith journey as we explore—individually and together—what it means to be human and accountable in a pain-filled world.
In Defund Fear, Community leader and lawyer Zach Norris shifts the conversation about public safety away from fear and punishment and toward growth and support systems for our families and communities. Norris explores what has gone wrong, why, and who has been most impacted by repressive and racist policing systems. He offers a blueprint for public safety that holds people accountable while still holding them in community. As Unitarian Universalists, the matters raised in Defund Fear invite us to respond to public safety in the U.S. today through a lens of faith. We urge you to grapple theologically with big, tough questions about who we are and the meaning and purposes of our lives. For your care, for your growth, and for the care and growth of others in your community with whom you will discuss Defund Fear, it is strongly recommended that you enter this book with this series of questions by your side.
More information about UUFA discussions of this UUA Common Read will be forthcoming.