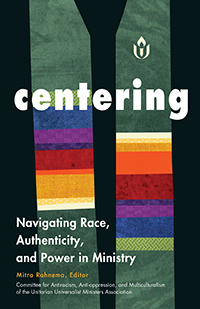 On two Mondays in May (7 and 14), Karen Solheim and Vivian Preston Sellers will lead discussions around the second of the books chosen by the UUA as Common Reads.
Sessions will meet in the Ocean Room from 7-8:30 p.m.
Centering: Navigating Race, Authenticity, and Power in Ministry is a book of essays by UU ministers and a religious educator about their experiences as people of color within their ministries. Powerful, surprising, horrifying at times, their experiences expose as side of Unitarian Universalism that has remained hidden for many years.
Need a copy of this book?  Visit the Social Action Committee table on Sunday mornings.
Register for one or both sessions by emailing Vivian at vpsellers@gmail.com.
We hope to see you for what promises to be a powerful discussion.
Questions?  Contact Vivian Preston Sellers, Lay Minister for Lifespan Development.
————————————————————————————